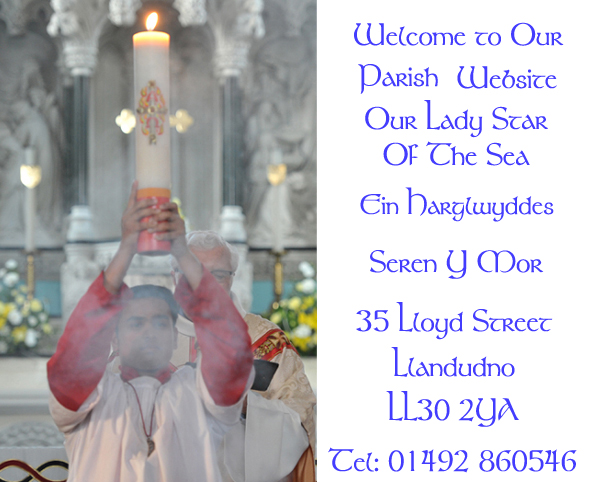 SCROLL DOWN FOR THIS WEEK'S NEWSLETTER AND FOR FURTHER NOTICES
 

Father Antony is recovering after surgery.  Hence the fact that the website has not been updated for some weeks.  However, he is making very good progress and apologises for any inconvenience this has caused you.  Normal service will certainly be resumed as soon as possible

.
Dear Parishioner,
The Election. Stop!  You've only read one word!  Don't screw up your newsletter like that!   I know you've had a bellyful of electioneering by now and the last thing you want is more of the same in the Newsletter, but that's no reason to screw it up like that!  Go on, fish it out of the bin, smooth it down and read it!
OK. Precisely because it is a Church Newsletter, let's take a look at Election from a Church point of view, for the word is as important to Christianity as it is to democracy.  You know that it comes from the Latin word meaning to choose.  Our ability to choose, and therefore to love, is our highest faculty, the faculty that makes us more human than does any other.   And, like everything else, this ability in us comes directly from God, for we have learned through Revelation how God Himself chooses and loves.
The cornerstone of the Old Testament is God's choice of the Jews from all the peoples of the earth to be his own special possession.  For you are a people holy to the Lord your God. The Lord your God has chosen you out of all the peoples on the face of the earth to be his people, his treasured possession.(Deuteronomy 7:6)  As their history unfolds, we find God choosing the key figures who would shape that history.  He chose Abraham; he chose Joseph; he chose Moses; he chose David; he chose the prophets individually:  The word of the Lord came to me, saying, Before I formed you in the womb I knew you, before you were born I set you apart; I appointed you as a prophet to the nations." (Jeremiah 1:4, 5)  Then He chose Mary…
Those whom God had chosen became known as God's Elect.  The Scriptures are full of this term.  And chief among those whom God has chosen is Jesus Christ, "The Chosen One of God".  Matthew explains who Jesus is by quoting the ancient prophesies:  "Here is my servant whom I have chosen, the one I love, in whom I delight; I will put my Spirit on him, and he will proclaim justice to the nations. (Mt 12:18).  St John the Baptist, sums up his own message and indeed his whole life by saying: "I have seen and I testify that this is the Chosen One of God". (John 1:34)
The Chosen One of God, Jesus Christ our Lord, then proceeds to choose his disciples.  He stayed up all night in prayer before electing his Twelve Apostles. You did not choose me, he said to them later, but I chose you and appointed you so that you might go and bear fruit, fruit that will last…. you do not belong to the world, for I have chosen you out of the world. (John 15:16, 19)
When the Church was born and began to spread across the ancient world, the Christians were supremely conscious that they were God's Chosen, God's Elect. They had to be.  How, otherwise, could they be so intimately associated with Christ in the work of the Church?  As God's Elect, they were prepared to die for the privilege.  Listen to Peter: Peter, an apostle of Jesus Christ, to God's Elect, exiles scattered throughout the provinces…make every effort to confirm your calling and election….For you are a chosen people, a royal priesthood, a holy nation, God's special possession, that you may declare the praises of him who called you out of darkness into his wonderful light.(1 Peter 1:1 /2 Peter 1:10  /1 Peter 2:9)
Maybe here we should pause for a moment and reflect on this wonderful thought: that each one of us has been personally chosen and called by God, called by name.  Being mindful of this could be your life-changer.
But now, let us look at the huge effort our politicians are making to get themselves elected.  What will they not do?  What will they not promise? What time will they not spare? What distances will they not cover? What inconveniences to themselves and their families will they not endure?  They promise you financial security, lower taxes, better housing, improved healthcare and childcare, more efficient schools, greater security…and the rest of it.  They want you to vote for them, they want you to choose and elect them.
Now isn't it strange how God's ways always turn our ways upside down?  It was not we who chose God; no, it was He who chose us.  He didn't choose us because we had made great promises to him, or because our ways of doing things were better than anyone else's ways.  He chose us simply because He chose us.  We are his Elect simply because He has elected us.  No effort on our part; no pre-required assets; no merits of our own.   His choice of us is pure grace.
And what does this divine choice do for us, what does it give us?  Not necessarily financial security for there is a kind of security which far exceeds that.  He has made it quite clear that man does not live on bread alone. His taxation system is unintelligible to the politician; you gain increase and credit to the extent that you give things away.  He doesn't promise us better housing, for he has told us that here man has no lasting city.  He tells us that we ourselves will become the very Temple where He Himself lives and reigns, such will be our home for ever. The healthcare He provides is such that it doesn't just add an extra few years of pain to an already pain filled existence but adds eternity to our short span of life.  Even here below He heals us in ways that medicine cannot touch.  He doesn't just change our outward condition, which is the aim of the politician; he transforms us from within, making us a chosen people, a royal priesthood, a holy nation, God's special possession.
So if God's Election is so much better than Thursday's, why should we Christians be bothered with all this politicking that has been going on?  Why can't we just leave it to those whose vision does not extend beyond the horizons of this world?  Shouldn't we, to whom the Mysteries of the Kingdom have been revealed, simply sit back and let them get on with it?  Does it really matter whether we Christians are involved or not?
It most certainly does, and for two reasons.  As those who know that the world and all that is in it ultimately issues from God and as those who have been let into the secrets of God's plan for the world, we know that there are dimensions to this world which atheists like Ed Miliband, for example, could never remotely know.  How can you possibly have a full and rounded view of the world if you rule out the very existence of the One who made it, the One who died that it might prosper?  These facts about God are not peripheral; they are real facts, even more real than those of what we call the real world, for they are the truth of God Himself who is the very foundation of everything that is.  They have to be taken into account if right political decisions are ever to be made.
And, as God's Elect, we should be even more zealous about the progress of our world than the most passionate, "pumped-up" politician could ever be.  We believe that God has put the world into our hands, to care for it, to develop it, to co-operate with God in bringing it to its ultimate fulfilment.  We are God's fellow workers, as St Paul puts it.  Showing no interest in the progress of our society would reveal that we have no appreciation of what it means to be God's Elect.
And another thing.  In God's back-to-front election, where He has chosen us not we Him,  where we have done nothing to merit the benefits showered upon us, we can at least put our whole heart and soul into showing Him our gratitude and appreciation.  What He asks of us now, as his Elect, is that we strive to further his Kingdom, the Church, to which He has called us.  The Kingdom of God, the Church, is God's Manifesto, God's vision of how socety should be and at the same time the very instrument that will bring that change about.  Never be fooled into thinking that politics and religion don't mix; without Christ in that mix, politics is inevitably short-sighted and short-term, flawed in its very essence.
He promises us that he will send his angels to gather his elect from the four winds, from the ends of the earth to the ends of the heavens.  (Mark 13:27) And, unlike most politicians, He certainly keeps his promises.
God bless,  Fr Antony
Dear Parishioner,
19 April 2015.  The Christian Manifesto
Manifesto, Manifesto, Manifesto.  Doesn't the very sound of the word put you right off your cornflakes?  Monday it was the Labour Party, Tuesday the Conservatives and the Greens, Wednesday (today, as I write) it is the turn of the Liberal Democrats and Ukip.  All are crowing over their own (alleged) achievements; all promising the rosiest of futures, all busy stabbing one another in the back, while the great British Public lets it all swirl over their heads, generally continuing to believe what they always have believed.  Such promises are always made; such depictions of future doom are always forecasted, but the outcome rarely corresponds to the predictions.  While no one can deny that progress has been made over mankind's history, all must recognise that it has been very slow progress, almost as if mankind is bogged down, somehow.  Why is that?
Are the politics of today, I wonder, all that different from the politics which held sway in Our Lord's time?  International tensions then were as fierce as they are today.  The Romans had overrun the Holy Land in much the same way as Putin has occupied the Crimea and eastern Ukraine.  The violence we see perpetrated today by Isis was commonplace in First Century Palestine.
Alongside international politics in Our Lord's time, with the Zealots hell-bent on getting rid of the Romans, the internal politics were every bit as vigorous as they are in Britain today, maybe even more so.  The unique situation prevailing in Israel meant that all her laws and regulations were based on religion.  That meant that all the political parties were religious parties: the Pharisees, the Sadducees, the Essenes, the Zealots and the rest of them.  Even the Zealots who were preoccupied with liberation from Rome were fired by religious motives: they despised Rome because it was pagan.  The fanaticism we see in religious political parties today was alive and kicking then as now.
And all these parties had, yes, their manifestos.  Maybe they were not printed on glossy pamphlets, nor published on specific days with the kind of razzmatazz which today we have come to expect, but they all did have their own manifestos.  And so did that politico-religious party which came to be known as Christianity.
Christ's Manifesto is known to the world as The Gospel.  It is political through and through.  It is religious through and through.  In this respect, it was just like all the other manifestos which were circulating in First Century Palestine.  But it was profoundly different as well.
The Gospel is thoroughly political.  While giving to Caesar what belongs to Caesar, it pledges a respect for others, no matter who they are, indeed it demands a love for the foreigner, be they Roman or Greek, black or white.  It proclaims a welcome to anyone who is willing to sign up to its utterly new Manifesto.  It rejects violence and war; teaches justice and fair play; insists on sharing not hoarding; regards human sexuality as sacred; fosters wholesome family life and family values.  It sees itself not as the aggressor but the servant; not the avenger but the cheek-turning righter of wrongs; it promotes peace by refusing to take sides and draws converts to herself by loving, not by conquering.
And while the Christian Manifesto is political through and through, it is also religious through and through.  It recognises first and foremost the utter supremacy of God.  It recognises the world as issuing from his creative hand and therefore holy and demanding of man's reverence and respect.  It recognises Man as God's supreme material masterpiece; as created in the very likeness of God, and whose human life is so sacred that God Himself is prepared to die for it.  The promise of this Manifesto is not a materially better life, not jam for tea at some unspecified time in the future, but a promise that takes effect right now, a way to become truly human and a way to mystical communion with God through the Church.  And it guarantees our utter fulfilment hereafter.  Some Manifesto!
I said that for the most part these manifestos with which we have been bombarded throughout this past week swirled innocuously over most of our heads.  We have heard such promises before and we know that life has a habit of going its own sweet way undeterred.  And, you know, I think something of the same happen with Christ's Manifesto.  Let me explain.
After the depraved practices of the pagans and the eye for eye, tooth for tooth attitude of the Jews, Christ's Manifesto was to the ancient world like a nuclear explosion.  No wonder we find recorded in the Acts of the Apostles that the Christians lived in community, sharing all their possessions and loving and caring for one another as Christ had shown them how.  But it didn't last.  Why was that?  Is Christ's Manifesto pie in the sky, no better than the empty promises we have been listening to all this week.
It didn't last because almost immediately after this Manifesto had been promulgated, the Jews turned on the Christians and banished them from the Synagogue.  It didn't last because within decades, Titus's armies had smashed Jerusalem, destroyed the Temple and turned everything upside down.  It didn't last because before you could say Jack Robinson (in Latin, of course!) the mighty Roman Empire had turned its spite onto Christianity and persecuted it savagely.  And, in one form or another, it has been so ever since.
That is not to say that Christ's Manifesto has not yielded it fruits, not kept its promises.  In many ways it has; but in many ways it has not been able to.  Look at our present society, for example, and see the results of Christ's Manifesto written all over it.  There is more evidence of Christ's Manifesto in British Society than in the manifestos of all the Conservatives, Labour, Lib Dems, etc, put together.  Look at the schools, colleges and universities, all historically stemming from the Church's concern for people's human development; look at the National Health Service in all its complex ministry of care, resulting historically from the Church's concern for the sick; look at the legal system that keeps our nation just and stable, steeped as it is in Christian values.  Where have these and other institutions originated but from the Christian Gospel.  It is a fact of history no one can deny. It is only since David Steel introduced the Abortion Laws in the 1960s that our legislature has started (and continues) enacting laws contrary to the Christian tradition.
But over and above this, the Manifesto of Christ has been realised deep in the hearts of billions of Christians of every nationality and condition, billions of people who in their heart of hearts have found those Manifesto promises kept.  But while the Christian Manifesto has kept its promises and continues to do so, both within the secrecy of the individual's heart and in the wide open forum of public life, it has been hindered from achieving its full potential by the very state of this world.
There is a passage in the eighth chapter of St Paul's letter to the Romans which I have never been able really to fathom.  He is talking about the way creation seems to be thwarted.  He says in verse 20:  Creation was unable to attain its purpose because of Him who kept it so in a state of hope.  Even if this Newsletter has been for you tedious beyond words, it has at least done this for me: it has helped me to make some sense of what Paul is saying here.  It seems to me now that God saw that if things went swimmingly all the time for all of us, we would make very little progress in our spiritual life, which is our main reason for existence.  He knows that in a more frustrating world order we would need to keep our hopes high, our minds and hearts alert and fixed on Him.  Look into your own heart and see this scenario at first hand; see how it is the efforts you make that sharpen your soul, make you more like Christ, whose own human soul was sharpened by the opposition, intrigue, betrayal and physical suffering He encountered.
Manifesto means the making of something clear to somebody else.  Be yourself, therefore, Christ's living manifesto today.  Fight the good fight.  Finish the race.  And the prize will be, not a seat in Parliament or jam for tea, but a place at the right hand of Christ.    And for ever. And that's a promise.
God bless,                                        Fr Antony
CALLING ALL PARENTS AND GRANDPARENTS
The Preparation for Confirmation Classes started on 11 November. They are held at 4pm every Tuesday at Stella Maris for Years 7 and 8.  It is never too late to join!
NEXT PARISH COUNCIL: Postponed
PLEASE KEEP YOUR EYE ON THE PAGE WHICH DETAILS THE CURRENT FINANCIAL SITUATION OF THE PARISH.