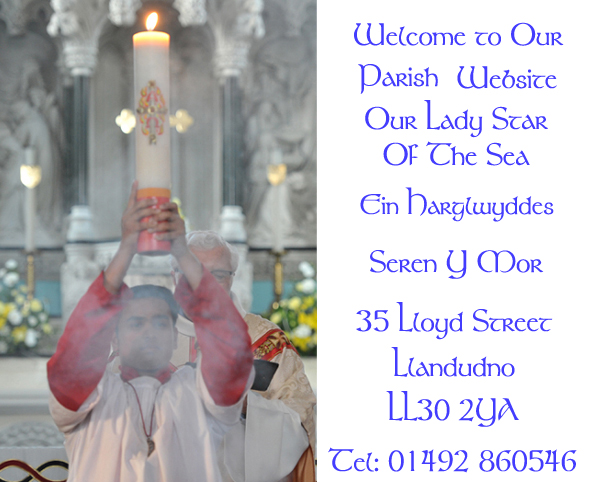 SCROLL DOWN FOR THIS WEEK'S NEWSLETTER AND FOR FURTHER NOTICES
I would like to draw your attention to Fr Aantony's Book THE MASS IN CLOSE-UP. Just click it to read or get full print-out.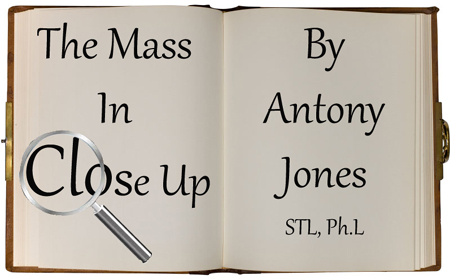 Please note the CATECHUMENATE PAGE. Here, in audio, you will find the whole course Fr Antony gave a few years ago to instruct adults in the Faith. It is ideal for introducing someone to the Catholic Church while, at the same time, an opportunity for a Catholic to look more deeply into their Faith.
Father Antony celebrates his Golden Jubilee of Priesthood at a special Mass with Bishop Peter at 10.30am on Sunday 11 September.  Because of his ill health he will be retiring from active ministry on that same day.  His new address will be: Flat 3, 8 Caroline Road, Llandudno, LL30 2TY.  His email address remains unchanged. For the time being, this website is not being fully updated, apart from the Timetable.   Normal service will resume as soon as the new Priest is established in the Parish.

Dear Parishioner,
14 August 2014  Golden Jubilee and Fr Antony's Retirement
Leaning against the clock on the table of the presbytery hallway and enjoying pride of place is a postcard, one of those blank-on-both-sides postcards you can get from the post office.  Its blankness has been dispelled by a drawing of a duck, a rather elegant duck I must say, whose outlines have been filled in with yellow water-colour.  From the left hand side, from what appears a bed of daffodils, the duck gazes at the ducklings stepping out of water to meet her.  Between duck and ducklings there is a legend, written in a somewhat wobbly hand, which reads: Lame Duck!!! You're great, you're first class".   It was created by June Hughes (who is rather poorly at the moment, so please pray for her) and sent to me after a newsletter in which I had described myself as a Lame Duck, following the most recent of my operations.
I have cherished that postcard and always will, not by a long chalk because I thing that I am great or that I am first class but because it expresses graphically to me the tender-heartedness and loving nature of June Hughes whose own life has been characterised by so much tragedy and pain, culminating in the stroke which left her unable to speak but which never for a moment wiped the smile from her face.
And the kindness displayed by June has been replicated tens of thousands of times right across the Parish by your good selves.  I marvel at how good you have shown yourselves to be.  Feed my Lambs comes instantly to mind, but that, my dear parishioners, is only a reflection of the goodness you show in every direction and which, in particular, you have shown to me personally.  How you have prayed for me at the times when I have been ill; how you have put up with my long spells away, in hospital or in convalescence; how you have made allowances for me in these latter months when I became unable to visit the sick of the Parish or the Parish itself; unable to visit the hospital or hospice; unable to provide adequate pastoral care to the School or the Convent.  These activities had been the joy of my whole life and my inability to carry them out fully in these recent times has been a real sadness.
Since that infection I had at Christmas which kept me in hospital throughout December and through Christmastide, the lame duck has become wobblier and wobblier, always hoping but never achieving that state of health which would enable me to resume my priestly duties to the full.  Carrying on as your Parish Priest in these conditions is not fair to you, you deserve better.  I have therefore, with a heavy heart, petitioned the Bishop to let me retire from active service on the day I celebrate my Golden Jubilee, 11 September, and he has accepted my request. Whether Fr Abraham stays here or is appointed to another Parish will depend on himself and the Bishop.
The arrangement I was in the process of establishing whereby the SVP would help with the house-to-house visitation of the Parish will now need to be put on hold.  It will all depend on what the new PP wants and I do not wish to tie his hand in any way.  What I am sure he will permit is my continuing to provide your weekly instalment of  The Mass in Close-Up until it is finished.
You will be wondering who my successor is.  Well, I'm wondering too!  But as soon as everything is finalised between Bishop Peter and himself, I'm sure I shall be told immediately.  Remember to pray for him.  It's not easy moving into a new parish.  First of all, there is the parting from the parish you have devoted your life to for the past several years, from people whose joys and sorrows you have deeply shared.  And very often, as it was with me, the new priest on his arrival knows not a soul in the Parish nor anything about how the Parish runs.  He starts, as it were, all over again, from scratch.  But he will inevitably do some things his own way, so be careful not say to him Fr Antony did it this way, Fr Antony did it that way.  He is your new pastor; he will come with new ideas, taking this lovely parish yet further upwards and onwards.  I will be more than willing to help out in the Parish in any way the new priest may want, provided, of course, my health permits.
I hope it will come as good news to you to know that I shall not be leaving the town, or the Parish for that matter.  I shall join you as a fellow parishioner of Our Lady, Star of the Sea, with my residence in Seren y Mor.  The top flat has been vacant since Fr John Toole died some months ago and it is there that I shall be living.  You will continue, therefore, to be able to see me and I to see you.
I am profoundly grateful to Bishop Peter who has shown me exemplary kindness and who has allowed me to retire into this flat, part of the house which Sr Jennifer donated to the Diocese and which the Diocese has converted into three fine flats for retired priests.  Seren y Mor is now fully occupied: Sr Jennifer on the ground floor, Monsignor Fealey on the first and myself on the second (Flat 3).
But I am not gone yet! There is still a month before 11 September, when I will have served you as your priest for eighteen years and eight months.  I look forward to that Jubilee celebration with the Bishop and yourselves and ask you to thank God for all the graces and benefits He has given me and to pardon me for my many failings and shortcomings.  And if I have offended or hurt anyone in the Parish in any way, I am truly sorry.
God bless,                        Fr Antony
Dear Parishioner, 
31 July 2016
The Murder of Fr Jacques in France
I cannot be the only one who, on hearing the news, immediately linked the events of Tuesday, 27 July 2016, with what happened on 29 December, 1170.  On the earlier date, four men armed with knives entered Canterbury Cathedral and, at the altar, murdered its Archbishop, Thomas Becket; last Tuesday, three men, armed with knives, entered the church of Saint-Etienne-du-Rouvray and murdered its priest, the 86 year old Fr Jacques Hamel, as he was celebrating Holy Mass.
Hope Springs Eternal
That connection brings a glimmer of hope into this hopelessly black event.  The terrible murder in the Cathedral spawned blessings in every direction and continues to do so.  Such was the reaction to the murder that within three years of it taking place, Pope Alexander lll declared Thomas a saint.  Conversions of the heart followed in breathless succession.  Not only King Henry ll, who had uttered those fateful words Who will rid me of this turbulent priest?, but the knights who had carried out what they thought were the King's wishes, were all penitent, and literally millions of people subsequently down the centuries have gone on pilgrimage to the shrine at Canterbury in a similar spirit of repentance for their sins.  It is inconceivable, as well as unimaginable at the present moment, what the effects of this murder of Fr Jacques will be, but benefits there most certainly will be, both for the Church and for the cause of world peace.
Most of these barbaric acts which we are increasingly witnessing on our television screens are perpetrated by so-called Muslims whose immediate purpose is to make us hate Muslims, so that society will split and our civilization be undone.  If they succeed, then we can equally blame ourselves for not having lived up to our Christian ideals.  We must not allow them to make us hate Muslims or anyone else; we must retaliate with a different kind of weapon to the weapons they are using.
"For though we live in the world, we do not wage war as the world does. The weapons we fight with are not the weapons of the world.  On the contrary, they have divine power to demolish strongholds.  We demolish arguments and every pretension that sets itself up against the knowledge of God and we take captive every thought to make it obedient to Christ." So declares St Paul, 2 Corinthians 10:3-6.
Although our world is no longer overtly Christian, our society, born and bred in the ethos of Christianity, still to an extent clings to the great ideals it was taught.  Throughout the whole history of Christianity, different sets of ideals and aspirations have mesmerised and captivated man's mind, but none of them have been able to stand up to the basic truths and values as expressed by Jesus Christ.  In our own time, think of fascism in World War Two or Communism after it; at their height they seemed all-powerful, but they could not stand the test of time.  The same will be true of ISIS.  It has to fall: Our weapons have divine power to demolish strongholds; we demolish arguments and every pretension that sets itself up against the knowledge of God…That is why it is so important that people are catechized properly in their Christianity.
The Mind of Christ
The responsibility for future peace and harmony starts right here with each one of us, not remotely in the hearts and minds of national leaders.  It is our own mind set we must look to and take care of.   It must be the earnest intent of each and every one of us to have within us, as St Paul says, the Mind of Christ.  And where do we find the Mind of Christ when it comes to responding to events such as the murder of Fr Jacques?  I can tell you exactly where: in Christ's Sermon on the Mount, chapters five to seven of St Matthew's Gospel.  The mind of Christ doesn't sit easily and comfortably with our own mind; we instinctively prefer the mind of the world.  But we have to work on it; it is our Christian duty.  Many years ago I resolved to read through the Sermon on the Mount once every month.  I haven't been entirely faithful to that resolve, but I do try to keep it up; and I commend it most earnestly to you.
From the Gospels we certainly find the Mind of Christ, but circumstances change as time passes and sometimes it is not easy to determine what exactly the mind of Christ would be in a given circumstance, for example how to handle ISIS.  And this, of course, is one of the reasons why Christ established his Church, to make audible to each successive generation what His mind is.
Just look at what's going on in Poland this very week as it celebrates World Youth Day.  One and a half million young people from 187 countries are centring on Krakow.  What will they be doing there?  Not just meeting the Holy Father, important though that is, but also, and crucially, being taught the social doctrines of the Church, which are nothing other than the Sermon on the Mount applied to the modern world.  There are no less than 801 bishops set to hold catechetical sessions with the young people, leading discussions and encouraging them in the Way of Christ.
There are umpteen programmes these days on television about unearthing and discovering ancient treasures that have been lost by time.  One of the greatest treasures of the world, and one that has shared the lot of being lost, is the Social Teaching of the Catholic Church.  To describe it as a treasure is to under-rate it; it is more, much more.  But the average British Catholic knows more about what Jeremy Corbyn has to say on social matters than what the Church has been teaching for centuries.
Youcat and Docat
For this reason, a new book is being presented to the public at the World Youth Day and distributed to the young people there.  It is called DoCat.  You may well be familiar with YouCat, the catechism adapted especially to the young people of today.  YouCat is brilliant, and I recommend it not only to the youth of our Parish (who already receive at copy at their Confirmation) but to each and every one of us.  It expresses the faith of the Church in a clear digestible way.  Its sister book, DoCat, is the same, but its content is the social teaching of the Church, something we should all strive to be up to date with.  I hope to get a supply of DoCats as soon as they are available.  Put the two together, the Sermon on the Mount and DoCat, and you will be well on the way of forming within yourself the Mind of Christ.
Two of our young people, both Altar Servers, Megan Williams and Lynette Mutisya, are presently attending the World Youth Day in Krakow and we look forward to their sharing with us their experiences.  Today youngsters are confronted with every kind of false ideology, making fidelity to Christ far more difficult for them than it was for the older generation.  Let us be conscious of this and give our young people every encouragement they need.
The Church once strove to do this through youth clubs and the like.  But those days have gone.  In this parish we focus more on our Altar Servers.  We keep them close to Christ by keeping them close to the Mass.  We open the Scriptures to them by teaching them how to read the Word of God to God's people assembled for Mass.  We used to take them on outings, like to the zoo or a ski slope, but now we focus on paying for them to go on retreats and World Youth Days which they thoroughly enjoy and where they can deepen their relationship with Christ  I look forward in the near future to receiving several of the Altar Servers into  the Guild of St Stephen, thus consolidating further the wonderful team that we have and of which we are very proud.  Let us remember all these dedicated young people in our prayers for the future of the Church, God's presence in the world, will depend heavily upon them.
God bless,                            Fr Antony
Contact me : antonyjones23@gmail.com