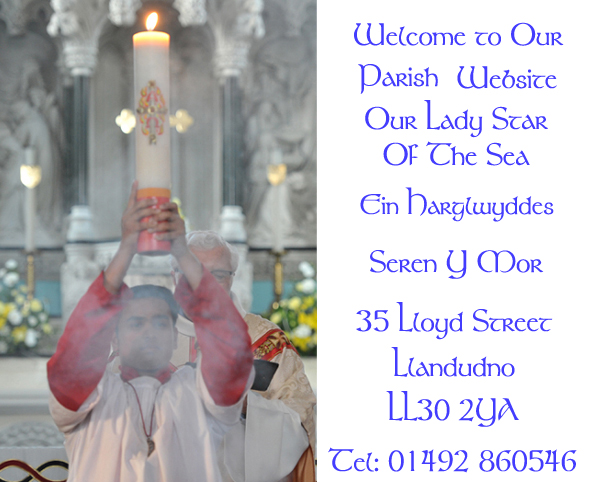 SCROLL DOWN FOR THIS WEEK'S NEWSLETTER AND FOR FURTHER NOTICES
I would like to draw your attention to Fr Antony's Book THE MASS IN CLOSE-UP. Just click it to read or get full print-out.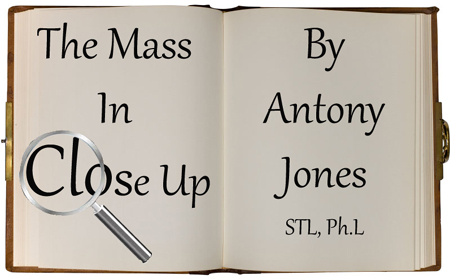 Father Antony celebrates his Golden Jubilee of Priesthood at a special Mass with Bishop Peter at 10.30am on Sunday 11 September.  Because of his ill health he will be retiring from active ministry on that same day.  His new address will be: Flat 3, 8 Caroline Road, Llandudno, LL30 2TY.  His email address remains unchanged. For the time being, this website is not being fully updated, apart from the Timetable.   Normal service will resume as soon as the new Priest is established in the Parish.

HOMILY AT FR ANTONY'S JUBILEE GIVEN BY MGR JOHN ALLEN PhL, STL
My fellow priests here will recognise my dilemma. It must have happened to them – and more than once. I'd prepared a homily based on the Gospel reading for today, the 24th Sunday of the Year. And the deacon has read a different Gospel!
The Gospel reading for the 24th Sunday of the Year is that famous story known usually as 'The Story of the Prodigal Son'. You remember it well. A man had two sons. The younger son said to his father: "Father, give me my share of the inheritance." And when he got his share he went off to a distant country and wasted everything in a life of debauchery. But then he came to a better mind. He came home. But before he arrived his father came running out to meet him. The elder brother objected. But the father replied: "We have every right to rejoice. Because your brother here was dead and has come to life; was lost, and is found."
That Gospel will be heard today in Catholic churches the world over; heard in very many different languages. But here in Llandudno we've heard a different part of the Gospel. It's the part of the Gospel that was read 50 years ago today when Fr Jones was ordained a priest. It's right and fitting therefore that we hear it again today. I was there to hear it on that great day in 1966.
But where does that leave the homily? Well, what a cracking part of the Gospel the story of the Prodigal Son is! But to be honest, I thought if I'd been able to choose a Gospel reading for today I wouldn't have chosen that. Somehow I can't imagine Fr Antony Jones as a prodigal son. I can't imagine him going to a distant country and wasting everything in a life of debauchery. Can you? No.
So perhaps not the best Gospel reading for today. But on second thoughts, yes, what a magnificent Gospel reading it would have been for today. Because when you think about it, who is the most important person in that story? It isn't the son. It's the father surely. Jesus is giving us there a picture of our Father God. It's our Father God who is prodigal, bounteous, exuberant, reckless, loving, caring, merciful, warm-hearted, unlimited in his generosity. It's the same Father God who called the young Antony Jones to be a priest. That's why today our emphasis is not so much on the priest but on God. We're here to thank God for the priesthood of Fr Antony Jones; and especially to thank God for all the graces and blessings God has given to Fr Antony over the past 50 years. We gratefully remember his mother and father, his brother and sisters, who helped his vocation to mature. As well of course as thanking Fr Antony himself for responding to God's call and for his generous co-operation with God's graces and blessings over the years. Very many of us here have benefited from his talented and gracious ministry.
Fr Jones writes in this week's Newsletter of the "great joy" he has experienced as a priest. It's a joy so many share. Five years ago, Monsignor Stephen Rossetti published a widely researched study entitled 'Why Priests are Happy'. Mgr Rossetti showed why the Catholic priesthood remains among the happiest of vocations. Any suitable candidates for the priesthood who are here, please note!
A little time ago I read of an American priest looking back over his 50 years of priesthood and saying: "It's not the cruise I signed up for!"  That may well strike a chord with many of us as we too look back.
We were the generation growing up during and after the 2nd World War. The Catholic Church and the priesthood enjoyed a certain kudos. Servicemen returning from Italy retained a very favourable impression of Pope Pius XII. Brave churchmen imprisoned under Communist regimes were in the public eye. They bore witness to faith and freedom: men like Archbishop Stepinac in Yugoslavia, Cardinal Mindszenty in Hungary, Fr Aedan McGrath in China.
Even the film world weighed in, with Bing Crosby as a priest in Going my Way and The Bells of St Mary's, and other films such as Monsieur Vincent about the life of St Vincent de Paul, On the Waterfront, Guilty of Treason, Alec Guinness in The Prisoner – all films portraying a healthy, manly image of the priest.
It was a time of optimism, of rebuilding after a terrible war. Even serious historians were carried away. I remember Fr Hertling in 1961 and Fr Papa in 1962 – professors of Church History in Rome – both saying "The Church has never been healthier than she is today." New parishes opened, new churches and schools were built.
On 11th October 1962, Saint Pope John XXIII opened the 2nd Vatican Council. The Council lasted for four sessions. It ended on 8th December 1965. Antony Jones was a student in Rome during all four sessions of the Council. He was very close to it and to all that was going on. Younger people here will hardly appreciate what that Council meant. It was a life-changing, life-enhancing experience. The winds of change began to blow, and blow strongly. Our cruise was sailing daringly into unchartered waters. English in the Liturgy! Ecumenism! Collegiality of Bishops! The Decree on the Apostolate of the Laity!  Dei Verbum! Gaudium et Spes! And so on.
On those seas Fr Antony Jones set out, almost as the first fruits of the Council. It was to be his privilege to live out his priesthood in the wake of the Council. The Council was to shape his service in the Church. Ever the optimist he said: ' It's like the first [really] spring-like day of the year. You get the impression that in the Church today new life is about to break out – there is "expectation" in the air.' [BBC Radio 4 FM, 9 January 1977 – In Search of the Kingdom]
The first and most obvious tsunami from the Vatican Council came in the Church's liturgy. In the Latin Rite, Mass for centuries had been said in Latin. The Council opened the door to Mass in the language of the people. The faithful were encouraged to play an active, informed, enthusiastic part in offering the Holy Sacrifice of the Mass with the priest. New thought was given to the architecture and furnishing of churches; to the vestments and sacred vessels; the music; and so on. Prayers and gestures which had lost their meaning over the centuries were to be replaced.  Others would be modified so that their beauty and significance could be seen by the faithful.
You in this parish, and the parishioners of Pwllheli, know how Fr Jones responded to the challenge. He set himself to learn Welsh so that he could celebrate Holy Mass not only in English but in the ancient language of this country of Wales. He wrote a treatise on the Mass which conveys simply but deeply his understanding and love of this Holy Sacrifice. You can find it on the parish website, all 85 pages of it. There he testifies how "the Mass has always been the Mass, the sacrament whose depth of mystery has always fascinated me and drawn me on".
The Council spoke of "Hearing the word of God with reverence and proclaiming it confidently" (Dei Verbum Preface). After the Council there was greater emphasis on the Liturgy of the Word. At Mass, the Sunday and the weekday cycles of readings opened up the Scriptures. Regular church-goers hear the wonderful works of God powerfully proclaimed. God's word is then explained and applied in the homily. The parishioners here at Our Lady Star of the Sea can witness how faithfully Fr Jones carries that out, both in the homily and in the newsletter. He has had long practice. For years he served in the Catholic Missionary Society. He gave missions in parishes the length and breadth of the British Isles. In those days too he edited the Catholic Gazette. In his hands, the printed word was a well-crafted tool bringing the word of God to many.
A second tsunami came with the Council's Decree on Ecumenism. Before the Vatican Council we Catholics had always recognised those who were our fellow Christians. We knew that we shared many things in common. But they were 'separated brethren' – with the emphasis on separated. With the Council, the emphasis changed. They may be separated but they are very strongly Christian brothers and sisters. The Council taught us to realise even more that other Christian groups too have the grace of God. So we should venerate and welcome the presence of God in them. We have so many good things in common with them. The same spirit should also inform our attitude to other world religions. And also to all people who by their actions show a measure of good will.
I remember when Fr Antony Jones was parish priest in Ruabon. There he forged a close understanding with the local minister of the Church in Wales. So much so that in 1980 the Catholics were able to use the ancient church there for Sunday Mass. It was the first instance of a shared pre-Reformation church in the whole of Wales, and England too. The sharing continues to this day in the spirit of the famous dictum of Cardinal Mercier, 'We cannot love each other if we do not meet each other'. Here in Llandudno the Churches work together in so many ways. Fr Jones has taken his turn as President of Cytyn – Churches Together in Llandudno.
Probably the most important teaching the Vatican Council produced was on the Church [Lumen gentium], with its universal call to holiness. The Church is not the Pope, supported by bishops and priests, with lay people bringing up the rear. The Church is the People of God, the Body of Christ. All its members, guided by the Holy Spirit, have different but essential parts to play in its worship, its governance and its development.
In that connection I recall something Saint John Paul said when he came to England and Wales in 1982. He spoke then of the closeness of priest and people. "The Church, too, must be a family, bishops, priests, deacons, religious and laity, supporting each other and sharing with each other the individual gifts given by God. Every priest relies on the faith and talents of his parish community. If he is wise he will not only know the joy of dispensing God's grace, but also of receiving it abundantly through his parishioners as well. The partnership between priests and people is built upon prayer, collaboration and mutual respect and love. That has always been the tradition of these islands. May it never be lost" (in Heaton Park 31 May 1982).
Again, you good parishioners here in Our Lady's know full well how Fr Jones has tried to involve you in all that happens in the parish. Yours has been a joint venture. There is no such thing as 'us' and 'them'. Ill-health in the past few years has in some ways even brought you closer.
And now some of us, Fr Jones included, are coming into port. We may at times on our voyage have felt a little seasick. Maybe a little nostalgic for when the sea was calmer, and wondering whether the present crew is up to scratch.
Well, 51 years after the Vatican Council ended and 50 years after Fr Antony's ordination the barque of Peter still sails on. The wind is in our sails. The crew is more international. It's young, enthusiastic. The Church is crossing new waters but she is better equipped. The documents of Vatican2, the Catechism of the Catholic Church are powerful engines of renewal. There may be an increase of secularism in our country. Relativism may be rife. But Catholics arrive from distant lands. Worldwide there's a new confidence, a new spirit. Our same Father God – prodigal, bounteous, exuberant, reckless, loving, caring, merciful, warm-hearted, unlimited in his generosity – is still in charge.
It was one of the early saints who said: "The Church may be storm tossed but never wrecked." Peter is still captain through Francis. We are on course. "Not the cruise I signed up for 50 years ago?" No. Different. Perhaps even better.
Dear Parishioner,
A Fond Farewell  11 Sept 2016
While I still have the privilege of addressing you as my "Dear Parishioners", there are still one or two things I want and need to say to you.
I have been in Llandudno for the greatest part of my life, longer here than I spent at home, longer than at College at Rome, longer than my time in the Catholic Missionary Society, longer than in any of the other parishes of which I was PP, here for eighteen years and eight months.  And I am very glad that, resembling Jeremy Corbyn in this respect, "I'm not going anywhere", just down the road.  But even so, it's time to say "Good-bye" – goodbye to you as my parishioners.
As the Second Vatican Council reminds us, the local parish is the Catholic Church in microcosm, in miniature.  I have loved the Church since I was a youngster and I love her still, even more so.  You are that microcosm of the Catholic Church which was put into my pastoral care eighteen years ago, the object of my love and care ever since.
I held the Priesthood in utter reverence when I was young and never really believed that I would ever make it, recognising myself unworthy of it, even incapable of it.  My own Anglican uncle, a Church Warden for most of his adult life confirmed my opinion when he said to me, and I have never forgotten it, "You will never make a priest" (yet when he was on his deathbed many years later, I was the only minister who visited him and at his own request I gave him Absolution and the Last Sacrament of the Catholic Church.  He began to sing – yes, on his deathbed – "This is the day the Lord has made, let us rejoice and be glad".  He died contented and happy).
I hold the priesthood in equal reverence today as I did when I was a boy and, though you may not believe it, after fifty years of priesthood I still have to pinch myself to believe that I am indeed a Catholic Priest.  I understand now my boyhood sense of unworthiness – no one but no one is worthy of it; it is entirely the grace of God.  I fully understand the pressures on and opportunities open to young men today as well as the sacrifices the priesthood would demand of them, but I cannot understand why today the Catholic Priesthood is not even considered by them as an option.  God's grace is still around, He is still calling.
Some years ago, Bishop Edwin surprisingly invited me to be a Canon of the Diocese.  I turned it down, not just because I knew that being a Canon was just not me, but because I did not want to exchange the title "Father" for the title "Canon".
The parish priest is supposed to be the spiritual father of his parish family.  I have tried to be so, but am uncomfortably aware that I have not achieved this to any great degree, that I have failed in umpteen different ways; but what I can honestly say is that I have tried and I have enjoyed trying.  Whether I have given joy to the Parish I do not know, what I do know is that this Parish Family has given great joy to me.  It has been a delight to administer the Sacraments to you: to baptise the children and give them their First Holy Communion; to send the penitent from the Confessional walking on air; to enter the joy of newly-weds as we celebrated the Sacrament of Matrimony; to be privileged to visit the sick with the Sacraments and to relieve the anguish of the dying with the great Sacrament of the Sick.  It has been a daily joy to celebrate the Eucharist with you; to preach the Gospel to you; to teach the Faith to you; to reach out and bring others into the wonderful Church to which we belong.
It was a great joy to me to visit the School on a weekly basis, saying School and Class Masses, hearing the children's confessions and attending their Christmas concerts and the like. The school Mass was a particular joy to me; I used to throw myself so vigorously into its celebration that, even when I was thoroughly fit, I was literally shattered after it!  My recent inability to continue this has been a real sadness.
It has been wonderful having the Loreto convent within the Parish.  How many holy nuns (and not so saintly ones as well!) have I come to know and love over these past eighteen years.  It was a special pleasure to go to the convent and celebrate their Mass and sometimes to stay on and share their meal.  I have always been conscious that the Convent has been a powerhouse of prayer for the Parish and for me.  And I know for certain that there will be very many Sisters up there still praying their heavenly socks off for you and me in equal measure.
So I say Thank You to each and every one of you in my Parish Family.  You all know individually what you have done for me and you know that, without naming you personally and individually, I am thinking of you personally and individually, remembering your kindnesses and continuing to keep you in my prayers.
As well as the assistant priests, Fr Hagos, Fr Andrew, Fr Gordon and especially  Fr Abraham there is, of course, one person whom I must name individually and you all know who she is!  Sr Jennifer has been a tower of strength to me from my first years in the parish until this very day.  When I have been ill, she has taken me backwards and forwards to Glan Clwyd; when I was hospitalised she came to visit me there every day.  When I was well and operational in the Parish, she assisted me with her vast knowledge of the families of the Parish which reaches back to the days when she was head teacher of the school.  She has been assiduous in her care for Sacristy and Altar Servers, providing the Parish with the best altar staff in the whole of Wales, all three Cathedrals included!  She has never failed to rebuke me (in the kindliest of fashions, of course) when she thought my plans were too hastily formed and gave me her sound advice, whether I asked for it or not!  Bishop Edwin once said that she was worth her weight in gold and I can only agree with him wholeheartedly.  And finally, I am moving into a flat created out of the house she so generously donated to the Diocese.
Like you, I am excited at the prospect of Fr Moses coming and of the future of the Parish in his care, a Parish where we already have a wonderful experience of what the word Catholic means, with so many people joining us from overseas. Now we have a Parish Priest from Nigeria.  He, like these other parishioners, will bring with him all the added richness of his own culture, further enriching our Parish which has been so enhanced in this way already. We welcome him with open arms.  Our Lady, Star of the Sea, has every reason and every opportunity now to continue its journey from strength to strength, onwards and upwards.
So I say Goodbye as your Parish Priest and Hello as your fellow parishioner of this wonderful Parish Family of Our Lady, Star of the Sea, Llandudno. May we all come to know Christ more clearly, love Him more dearly and follow him more nearly.
And may God bless you all,                 Fr Antony