THE SAINT VINCENT DE PAUL SOCIETY (SVP)
The Llandudno Branch of the SVP meets every Wednesday evening at 7.30pm at Stella Maris, our Parish Centre.  It is a branch of a world-wide organisation dedicated to helping the needy, on a face-to face basis, be that need material, social or spiritual.
Membership is open to anyone in the parish over the age of sixteen members visit in twos and are all DBS checked.
The SVP meeting is so structured that it provides its members with ongoing spiritual formation as well as detailing charitable work to be done during the coming week.  The local Conference has Twinnage links with desperately poor Conferences in Sudan and South Sudan, helping refugees from the civil war and through 'Feed my Lambs' feeds thousands of starving babies in these two countries.
The SVP has always been a strong force for good here in Llandudno and under its present President, Mrs Ronnie Lawson, it is going from strength to strength.
If you are seeking help from the SVP Society, please contact us on 07843 799010,
or moscolo2002@yahoo.co.uk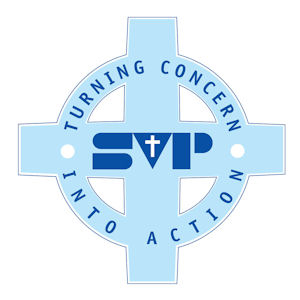 or The St Vincent de Paul Society,
Romero House
55 Westminster Bridge Road
LONDON
SE1 7JB
020 7703 3030
Reg Charity:  1053992
Twinnage: http://www.twinnage.org.uk
Members:
Adrian Beirne,
John Carberry,
Margaret Clarke,
Tony Fossi,
Teresa Hunt,
Ronnie Lawson,
Ian Mawdsley,
Ruth Mawdsley,
Peter Palmer,
Liz Roberts,
Marjorie Rowlands,
Marie Spacone,
Chris Thomas
The President of our local SVP Conference is Mrs Ronnie Lawson.