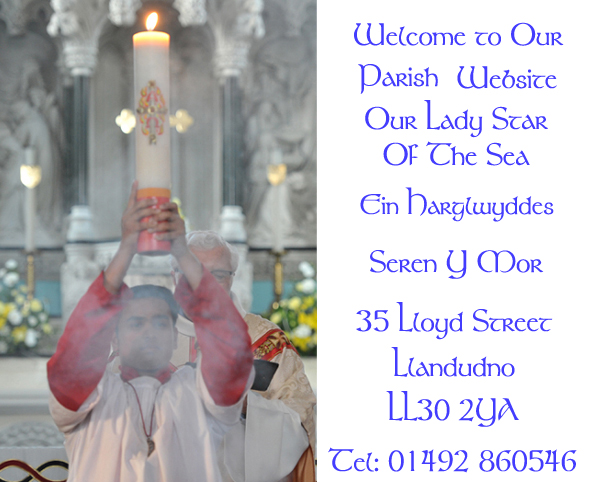 SCROLL DOWN FOR THIS WEEK'S NEWSLETTER AND FOR FURTHER NOTICES
I would like to draw your attention to myBook THE MASS IN CLOSE-UP. Just click it to read or get full print-out.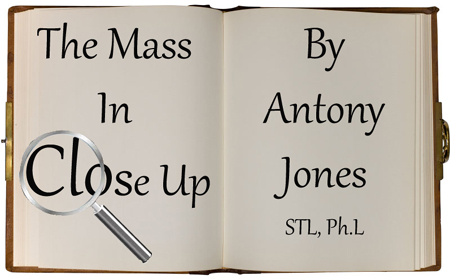 May I also draw your attention to the CATECHUMENATE PAGE. There, in audio, you will find the whole course I gave a few years ago to instruct adults in the Faith. It is ideal for introducing someone to the Catholic Church while, at the same time, an opportunity for a Catholic to look more deeply into their Faith .
Dear Parishioner.
1 May 2016. Parish Council Etc.
THANK YOU. I want to start my Newsletter today on a very positive note, and as I begin so I wish to continue. So first of all, I would like to thank on behalf of the Parish the members of the UCM for the Bring and Buy Sale which they held last Monday evening and all those who supported it. It raised over £250 for the sending of three of our young people to Cracow later this year to meet with the Holy Father and hundreds of thousands of like-minded young Catholics from across the planet for the World Youth Day (which is not a day but a week of activities). The three young people, Ashley Williams, Lynette Mutisya and Megan Williams, are themselves beavering away to help raise the necessary funds while the Parish has already supported their efforts most generously.
I would also like to thank Eileen O'Keeffe for that house party, held while I was away convalescing, to raise funds for Feed my Lambs. That too raised over £300 and was well supported by parishioners. I apologise that in last week's Newsletter I wrongly attributed this event to Eileen Barnet. I was away at the time of the house party and, relying on other people's information, simply got the wrong end of the stick!
PARISH COUNCIL. I can't give you as full an account as I usually do of the proceedings of the Parish Council Meeting held last Tuesday as I was not feeling well enough to attend it. Perhaps (actually not perhaps but certainly) the best bit of news coming out of it was that Sarah Dennison has been unanimously re-elected at Chairperson for a further term. Good news for the Parish. She is brilliant at it.
Items raised at the Council by parishioners included the suggestion that the Parish Prayer (Thank You, Lord Jesus Christ…) be printed out and pasted into the hymnbooks. This because many people, especially visitors, do not know it. Also dealt with was a very gentle complaint that events in the Parish are not being sufficiently well advertised. Personally, I don't think this is altogether fair criticism at the moment. For the past few months I have been out of action and consequently the Newsletter was not produced nor the website updated. I pride myself on the fact that via the newsletter and the website and the monthly timetable this parish is as well informed as any, with the website keeping you updated with virtually everything, including our financial situation. But I do accept that the publication of parish information should not depend so heavily on me and that we should make better provision for future eventualities.
JUBILEE YEAR OF MERCY. In connection with the Jubilee Year of Mercy, three matters were discussed at the Parish Council. The weekly reflections on the Corporal and Spiritual Works of Mercy which I am presently including in our Newsletter; the forthcoming Welsh Pilgrimage for Grandparents, of which there will be much more information in future newsletters; and the Spiritual Reminiscence Box, which I want to tell you about now .
Last week we reflected on the first two Corporal Works of Mercy, to feed the hungry and give drink to the thirsty. Today, let us turn our mind to the fifth Corporal Work of Mercy: to visit the sick. This is a Christian duty laid on each and every one of us. We cannot be content that the SVP does it for us. Our Christian discipleship demands that if any of our friends or relatives are sick or housebound, and if we feel that our presence would gladden them, then we should get on with it. And not just our relatives and friends, for there are some people who have no relatives and very few friends. These especially we should be looking out for.
What I would dearly love to see formed in the Parish is a group of people dedicated to the regular visitation of the hospital. This should surely be part of our outreach as a Parish and, as I know from experience, such a group, not only fulfilling a fundamental duty of our Faith, would also promote the Faith. People tend to remember what is done for them when they are poorly and they would forever associate the memory of that kindly visit with the Catholic Church. If you would be interested in this ministry to the sick, please make contact with me personally.
SPIRITUAL REMINISCENCE BOX. But let us come back to this Spiritual Reminiscence Box I referred to earlier. It fits into the context of Visiting the Sick which we are considering. It is not exactly a box, though intriguingly it turns into one eventually! It is initially a folder containing several cards and a CD. It was actually produced by the Marriage and Family Commission of our Diocese, which has the copyright on it, and already is being rapidly and enthusiastically embraced by the rest of the UK. It is a means of caring for those members of our families who suffer from dementia. By focusing on the five senses, sight, touch, taste, hearing and the sense of smell, it helps such persons to rediscover their past and the joy they once felt. Because sales are not likely to be massive and because costs need to be covered, it is quite expensive, selling at £10 per folder. But I have bought a small supply for the Parish which can be lent out for as long as needed. If you would like to borrow a set, please get in touch with me.
KEEPING THE CHURCH SPIC AND SPAN. Continuing the positive note on which I began, let me mention your response to my appeal for church cleaners. You may remember before I became ill in November, I appealed to the Parish for volunteers to clean the church on a regular basis, with individuals each taking responsibility for one small section of the church. The thinking behind this was that there would be no need for teams having to meet up together at a set time, but each could fulfil their duties at a time best suited to themselves. This appeal still stands, but so far it has taken a different turn. While I was off sick, two families have taken up the challenge, Kelly (Roche) Williams and her children, and Joanne and Francis Bird and their children. Taking it in turns, Saturday by Saturday, they have undertaken the work, and a fine job they are doing. The church itself proclaims the thoroughness of their labours. We are so very, very grateful. But if anyone else would like to help in any way, please don't be shy.
PARISH WEBSITE. I failed to keep the promise I made to you in last week's Newsletter that the Website was about to be finally updated after my prolonged absence. Problems with the computer put a spanner in my works! But by the time you read this, all might be well again, you never know!
On Monday, Fr Abraham sets off for his annual and well-deserved holiday in India. He will be away for five weeks. We wish him well and every blessing.
God bless you, Fr Antony
 Older Newsletter below:
Dear Parishioner,
24 APRIL 2016
SAFE AT LAST.  You may have seen her yourself.  If you did, then maybe her face has been as deeply etched on your mind's eye as it has been on mine  It was a few weeks ago, just after the EU had decided on its questionable policy of returning to their homeland every further migrant landing in Europe while accepting in one-for-one exchange some other refugee now encamped in Turkey.   The boat carrying her had just pulled in on the Lesbos beach. It was dark. The moment she stepped ashore she was interviewed by a tv camera crew.  So radiant was her face that it almost shone in the darkness. A broad smile filled her face beneath that white head-band Muslim women often wear under their black veil. She'd made it.  She and her family were safe at last in Christian Europe, safe at last from the terrors and perils at home, safe at last from the terrors and perils at sea.  I can't remember seeing a face so full of joy and bearing so broad a smile.  She didn't know the decision the EU had reached while she had been on her death-defying journey.  She didn't realise that the people she had longed to see would soon be sending her back to where she came from, with all her hopes dashed and all her resources spent.
Once her feet were on terra firma, the interviewer lost no time in putting her into the picture and breaking the latest news to her.  Maybe she didn't understand what she was hearing; maybe she just couldn't believe what she was hearing.  Or maybe she did understand.  Either way the smile did not depart from her face.
A couple of nights later the same face appeared on the television screen again.  I recognised her immediately. This time she was standing with innumerable others behind an enclosure fence grasping the wire fence with her hands and peering through it.  The self-same smile was still on her face.  But her face was now smothered with tears.
NO ANONYMOUS STATISTIC HERE. Here was no "refugee", no anonymous statistic.  Here was a real human being, just like you and me, with all her capacity for love, for suffering, for hope, for fear, for disappointment, a person determined to smile at life, whatever it might throw at her.  It was that smile which lifted her for me out of that torrent of refugee statistics, of numbers quoted, of anonymous crowds constantly filling our television screens.
To mark the Jubilee Year of Mercy we are going to reflect in the Newsletters on the traditional corporal and spiritual works of mercy which we are all called on to practise.  What they all have in common is the need to recognise and respond to that unique character which is in every man, woman and child on the face of the earth, each of infinite worth in the eyes of God and therefore in our eyes too, each demanding our care and loving attention.  That smiling woman, cooped up in her detention centre, is as important to God as you or me, the Queen or the Pope.  Unless and until we acquire this truly Christian mindset, we will never be able to perform the works of mercy as God would have us do.
FEEDING THE HUNGRY AND GIVING DRINK TO THE THIRSTY.  The first two works of mercy traditionally listed are to feed the hungry and to give drink to the thirsty. These are harder to carry out today than at any previous time in history.  Harder, because in this country, thanks to the welfare state, we do not usually come across people who are wasting away with hunger or dying of thirst, though there are many living below the poverty line. But it is also easier, because modern communications have brought the starving of Africa or the homeless of India or the refugees from Syria right into our very living rooms.  In days gone by we would have known nothing about them. In some ways it is even easier for us today to help these, by means of reputable charities, than the needy people of our own country.
FEED MY LAMBS.  Feed my Lambs is the principal way by which we, as a Parish Family, carry out the first two corporal works of mercy. I am constantly encouraged and astonished at your consistent kindness in this regard.  Every week we contribute at the very least £100 to the starving children of the Sudan, and often much more than this.  While I was away, Eileen Barnet threw a house party in aid of these children. I heard it was a most successful and enjoyable event which raised over £300.  We thank Eileen and all who took part in it and hope it is the first of many.
If these children whom you support were queuing around your front door, you would see the benefit of your generosity as well as the rewarding look of gratitude in their hungry eyes.  But as you do not have this stimulus, the greater your reward will be.  But you are not be doing it just for the heavenly reward.  You are feeding the hungry and giving drink to the thirsty because each and every one of them, like our smiling Muslim friend, is a real human being with a life to lead in all its richness and complexity.  You are doing it because they are our equals in the sight of God; our brothers and sisters in the sight of God.  Because giving to the poor out of our excess is not charity but justice – we owe it to them.  As Blessed Pope Paul VI used to say: the second suit in your wardrobe belongs to the poor man.  You give because you know that holding on to resources when others are in dire need is an injustice to our common humanity let alone to our Christianity. In caring for the poor we are caring for Christ, as He so powerfully points out to us in the great parable related in Chapter 25 of St Matthew's Gospel.  Furthermore, whether we carry out these works of mercy or not will depend the outcome of our final judgement, as that same parable makes clear.
AMORIS LAETITIA – THE JOY OF LOVE.  Now, to a different subject.  I would like to draw your attention once again, and the attention especially of our young parents, to the Pope's recent document on love and family life, The Joy of Love, which is available on our website.  It will richly reward anyone who reads it.  The Parish Website is up and running again; please take advantage of it.
INTERNATIONAL MASS.  And finally, Sunday, 15 May, is the great feast of Pentecost and the occasion for our annual International Mass. This is the occasion when we give thanks to God for the great enrichment of our Parish by the settling among us of so many people from overseas.  If you are one such person, please make sure your national flag is flying on our flag-tree.  If it is not, please alert me immediately so that I can get one in time for the celebration. The Mass will follow the now familiar pattern and we will be looking out for volunteers to carry their national flag in the entrance procession and/or to read scripture passages or prayers in their own language.  If you have national costume, please wear it for that Mass.  And, again as usual, we will be needing volunteers to bake the national traditional sweets for refreshments afterwards.  As always, I am looking forward to it.  I hope you are too.
God bless,  Fr Antony